At The Pastry Corner we understand that every couples day is special and unique to them. That is why we offer a one to one tasting with the happy couple and a chance for them to design a cake that is perfect in their eyes.
No catalogue for them to pick a cake from, just their ideas and our talents put together to make their dream cake!
Why choose The Pastry Corner?
Trained Patisserie chef
Your cake isn't being made or designed by some "hobby" baker, but rather a trained patisserie chef who has been working around and in kitchens their whole career.
A registered business with 5 Star food rating.
Tasty and delicious
With over 70 different flavours our couples are just as excited for the inside of their wedding cake as the look of the outside.
We are a strong believer that the inside of your wedding cake is just as important as the appearance.
Choice
We don't tell our couples what they have to have for a wedding cake, but rather ask what it is they want.
Having an understanding that each couple is different and designing a cake that suits them and their personalities.
High quality
We don't cut corners on our wedding cakes, or any cakes for that matter, using the highest quality ingredients in all aspects and sourcing the right products and fillings for each couple. So not only is the design of your cake bespoke but also the fillings of your cake!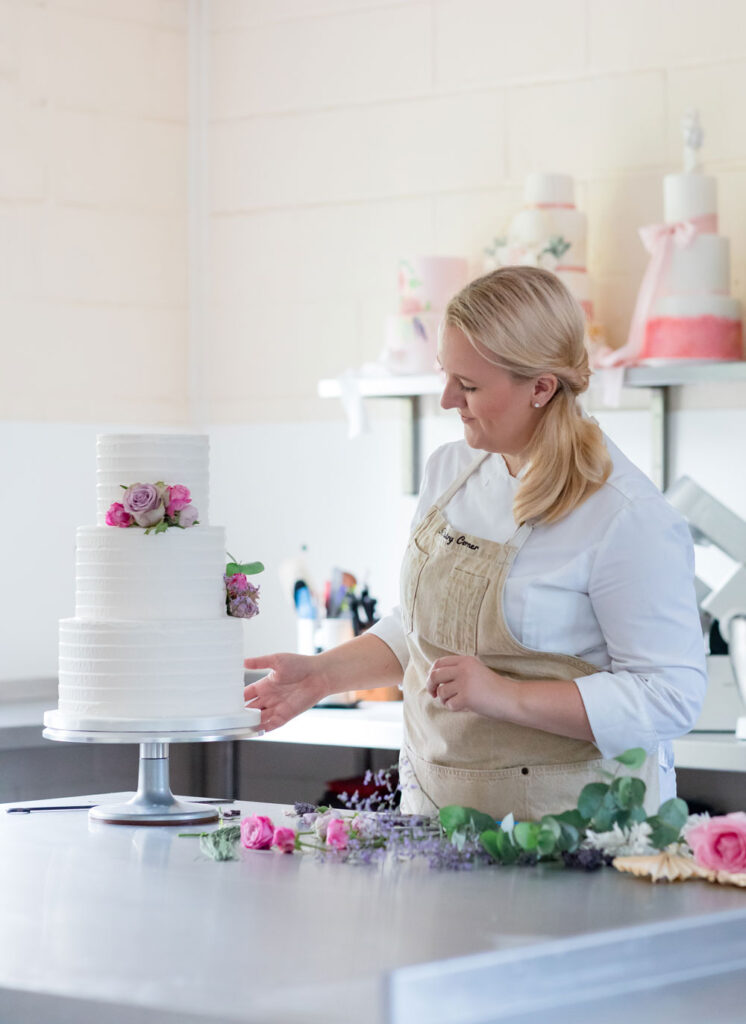 Thank you for making the most beautiful cake we could have ever wished for. It not only looked phenomenal (better than I ever imagined) but it tasted amazing! So many of the guests commented that it was the best cake they had ever tasted!
Our wedding cake looked and tasted fantastic. Alex was brilliant and we couldn't have asked for anything more perfect! Thank you!
Our wedding cake was absolutely stunning and one of a kind! We couldn't be happier with our wedding cake and was talked about throughout the evening by our guests.
Alex was brilliant from the beginning. She was professional and had some great ideas. Nothing was too much trouble. If you need a wedding cake or cakes/cake for any occasion, then Pastry Corner is the place to go. Thank you Alex
Amazing cakes, great service and loved every min of creating our wedding cake with the pastry corner. Can't wait for the next excuse for another one.
Our wedding cake was absolutely gorgeous, it looked stunning and tasted amazing! It was better than I could ever imagine! Thank you!!!
Thank you for making our beautiful wedding cake on Saturday. It looked and tasted amazing.
Amazing! Beautiful cupcake cake for our wedding! Looked and tasted amazing, everyone loved it!
I just want to thank you for the most amazing wedding cake ever! It looked absolutely stunning, you totally got what i wanted. It also tasted delicious too.
I absolutely loved my wedding cake it tasted as good as it looked! It went down well with all of our guests! Will definitely be using your services again.
can't thank you enough for my amazing wedding cake! Amazing flavours and looked unbelievable it was exactly what I pictured in my head! Would highly recommend you to any bride to be!
I can't thank you enough for our wonderful wedding cupcakes. It was stunning, delicious and met the specification exactly. Couldn't have asked for more and would highly recommend you!
Wanted to say thank you for our wedding cupcakes and top cake. Not only did you really listen and help inspire the final look - they tasted amazing!! Thank you so much
Thank-you!!! It was exactly how I described, it's so much harder designing your own cake than choosing from an image but I'm so glad we did, you captured our idea perfectly and each flavour tasted amazing!!! I highly recommend The Pastry Corner!!!
Suppliers that recommended us
We would love to be part of your next occasion or get together,  just fill in the short form below to get in touch!